Skip to content
Did Jamie Nixon Lose His Mind?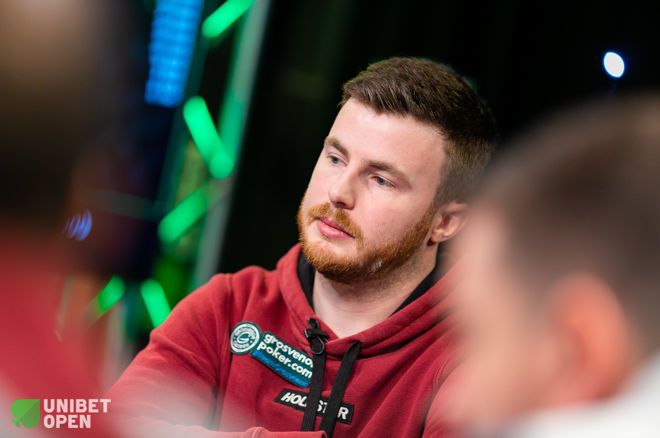 Jamie Nixon has been on a heater in 2020. In February he final tabled the Unibet Open in Dublin. Then, in May, he final tabled the Unibet Open once again, this time the Online version, where he came 2nd for €55,000.
Then, just a few short weeks ago, he hopped into a $75 lottery SNG, smashed the jackpot and took down the 3-handed game to win a $25,000 EPT Online High Roller seat, which he parlayed into an 8th place finish and $71,387.
So when the popular Twitch-streamer and Grosvenor ambassador joined Dara O'Kearney and David Lappin for a strategy segment on 'The Chip Race', they expected him to choose a hand from one of his many triumphs. Instead, modest as ever, Jamie picked 'the worst hand (he) ever played'.
---
Related: Jamie Nixon's EPT Online $25K SHR Experience: 'I Literally Can't Ever Moan About Running Bad Again'
---
The hand comes from the WPT Deepstacks and the action starts with Örpen Kısacıkoğlu raising to 1K at BB400 from the cut-off, Jamie raising to 3900 with
from the big blind and Örpen calling. Both players are super-deep and the effective stack in this hand is 120K.
The Flop comes
, Jamie c-bets 3.2k and Örpen calls. There follows some discussion on bet-sizing on this board.
The Turn comes the
, Jamie bets 12k and again Örpen calls. We discuss whether or not this is a must-bet spot and Dara makes some excellent arguments for a check on this street.
The river is where things get really interesting. It comes the
, making Jamie the nut flush. The pot is 39K and Jamie bets 37K of Örpen's remaining 100K stack. Örpen shoves and Jamie us faced with a 63K bet to win approximately 240K. We discuss how 'chip for chip', he needs to be good roughly 26% of the time to break even but factoring in it being a tournament in which he has a good edge, he probably needs to be good over 30% to consider the call.
Jamie explains how he bet big on the river so that if Örpen was to come over the top he felt like he could get away. However, when faced the actual bet, Jamie started getting suspicious thoughts, in particular that Örpen would turn his AKs with no diamond combinations into a bluff.
Jamie makes the call and gets the bad news that Örpen had KK. He says that he "lost his mind" but on deeper analysis, it is fair to say though that his call has some merit. Dara examines the solver line, revealing that Jamie's call is pretty much breakeven so versus a capable and tricky opponent like Örpen who may find more bluffs than most players, it is far from horrible to be a station in this spot.
---
To watch all the action and analysis, click the video link above. The Chip Race is a fortnightly podcast sponsored by Unibet Poker (@UnibetPoker). The last show featured Chance Kornuth, Marty Mathis, Bertie Bayley and Unibet IPO champion Ciaran Cooney and the next one will star Olivier Busquet, Zach Elwood, Gillian Epp and reigning Unibet Champion Padraig O'Neill. All episodes are available on Apple Music, SoundCloud and Stitcher.
Follow @daraokearney, @dklappin and @thechiprace on Twitter and, if you want more from two of the game's best and most prolific content creators, be sure to check out their spin-off web show 'The Lock-In'. It features one guest and has a looser format with lots of banter, anecdotes and deep dives into what's going on in the poker world. Recent guests include Dominic Nitsche, Brian Paris and Kat Arnsby and their guest on the next show will be Matt Berkey.