Skip to content
What Will the Poker World Look Like in 2021?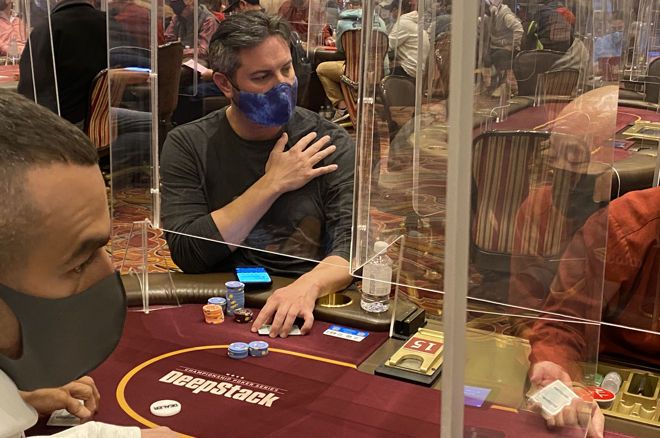 Disclaimer: The viewpoints expressed by the author do not necessarily reflect the opinions, viewpoints, and official policies of PokerNews.com.
All the way back in 2016, which seems like half a lifetime ago at this point, I took over a PokerNews tradition started by old-timer Rich Ryan, offering predictions for the coming year in the poker industry. There were hits and there were many misses, but fun was had by all — me as I tried to divine the craziness in this wacky culture and the readers as they laughed at my whiffs.
This year, that tradition must come to a sad end. This piece will start off normally enough as I run through last year's calls, but after that, it'll take on a new look.
Specific predictions for what's to come in 2021 seem rather pointless, because pretty much everything hinges on the balance between COVID-19 and the availability of the vaccines for said coronavirus. For all I know, we'll all be vaccinated and firing away as normal in six months, though I sincerely doubt it.
Instead, I'll offer a more freeflowing look at where I think the industry will head in the coming 10 months. And I'll close with one crazy prediction that I'll totally ignore for future purposes unless it actually happens.
First, let's see how everything from 2020 came out. Just know I'll be grading these on a very generous curve since in January 2020 when this was written, I had barely heard of the coronavirus. Certainly, like most, I had no concept of how radically the world was about to change.
1. Phil Crushes the Galfond Challenge — Sooo. Rough start to this one. Definitely did not anticipate Phil Galfond falling almost $1 million behind before storming back. But, storm he did, and he's posted a flawless record thus far, even winning mini-challenges against tough competition. I said Galfond would win seven figures, and he's already there after laying waste to Chance Kornuth.
2. The WSOP Main Grows, the PSPC Shrinks — Well, the PokerStars Players Championship certainly shrank. It went from $26,455,500 in the prize pool to not being held at all. Does GGPoker getting into the Guinness World Records for the largest online poker tournament ever — dubbed the WSOP Main Event at the time before a late bait and switch — count?
3. Someone Off the Board Wins WSOP Player of the Year — I thought a formula switch would open things up big time here, but, well, the WSOP as we knew it didn't happen, so the usual fun surrounding the points chase was off the table.
4. Phil Ivey Falls Out of the Money List Top 15 — COVID-19 shutting down live poker made it so this admitted long shot had zero chance. Ivey seemingly putting his legal woes behind him mean this one's probably off the board for future use.
5. Legislation Sets Up the Breakthrough Year (But It's 2021) — This one is on its way to coming home, although it actually got a boost from coronavirus. Legislatures are more inclined than ever to pass online gambling bills right now, and the potential end of the Wire Act reinterpretation that threatened to shut online poker down in the U.S. means exciting things could be brewing. Giving myself another credit here.
Now, where do I see things progressing in 2021?
Not Hopeful for Major Live Events
The year 2020 brought unprecedented changes to the poker world as it did to pretty much every industry.
The most noticeable thing, of course, was the glaring absence of major live poker tournaments. The European Poker Tour was basically absent aside from a Sochi event that isn't easily accessible for most players. The World Poker Tour held just a handful of events before shutting down live operations for the year in early March. And the World Series of Poker shifted basically its entire schedule online barring a surprising hybrid Main Event to end the year.
Unfortunately, at this stage, there's not much reason for optimism that things will be back to normal for 2021.
COVID-19, despite the emergence of a vaccine, remains a significant problem in most of the world.
In some locales, poker operators have chosen to soldier on. Look no further than the WPT event taking place in Florida this week. It made headlines for a strong turnout of 1,573 entries. No doubt, that may embolden some to try put on a big event. Hell, there's another WPT coming up just around the corner at Venetian.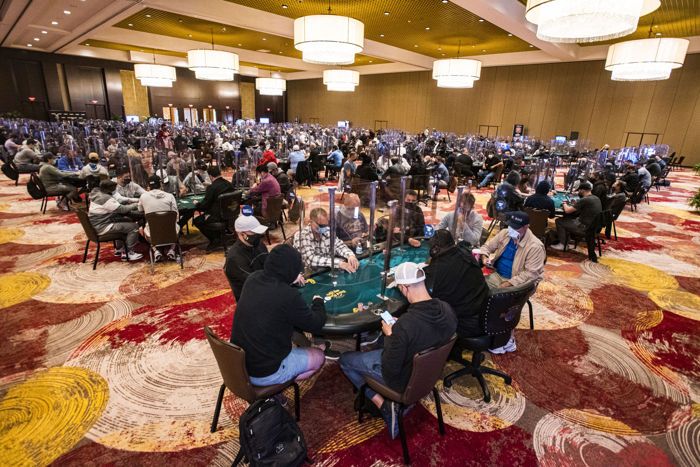 However, that seems likely to be more of an oddity than the norm, at least in the foreseeable future.
While the potential for the vaccine to help clear things up is exciting, the glacial pace at which it's being distributed makes me less than hopeful it have a discernible impact this year. Less than 2% of the U.S. has received the full vaccination at the time of writing. I know in the state where I live, nobody that I know of under age 70 who doesn't work in health care has even gotten a first dose scheduled.
Other than the aforementioned Venetian event, the WPT has nothing on the schedule aside from online stuff.
The EPT has only another Sochi event officially on the docket. The much-anticipated second running of the PSPC, which was supposed to take place at Barcelona in 2020, still has only the original postponement announcement as its last major update. It seems unlikely PokerStars will run the event if it can't hold a candle to the first iteration, a never-before-seen spectacle redefined what a $25K tournament could look like.
As for the biggest tournament series of all, the WSOP…well, usually by now, PokerNews has the ball rolling in terms of planning coverage for the summer bonanza. I can share that this isn't the case for 2021 as of right now.
I do know at least one major Vegas poker destination has a big series planned for the summer, so I'm not ruling out a WSOP in some form. If it happens, though, I think it will be heavily slanted to online events with some mixed and non-hold'em formats that the client can't support potentially playing out live, along with some big final tables. I'm not even sure those smaller fields would be feasible with the current international travel situation.
I don't anticipate anything that resembles a normal schedule of live major tournaments until 2022. I could see some things creeping back toward normal in the later months of 2021, but I feel like if anything big was coming before then, we'd have heard about it by now.
Mid-Major Tours Scattershot
While the live poker situation in Europe seems certain to remain pretty much on ice as lockdowns remain prevalent and international travel remains somewhat limited and difficult, it's a bit easier for smaller tours to get traction again here in the U.S.
Still, everything seems certain to be more regionalized as venues and operators cautiously dip their toes back in. And even that will only occur in certain states, as others remain firmly against large gatherings, the likes of which a decent-sized poker tournament would fall into for sure.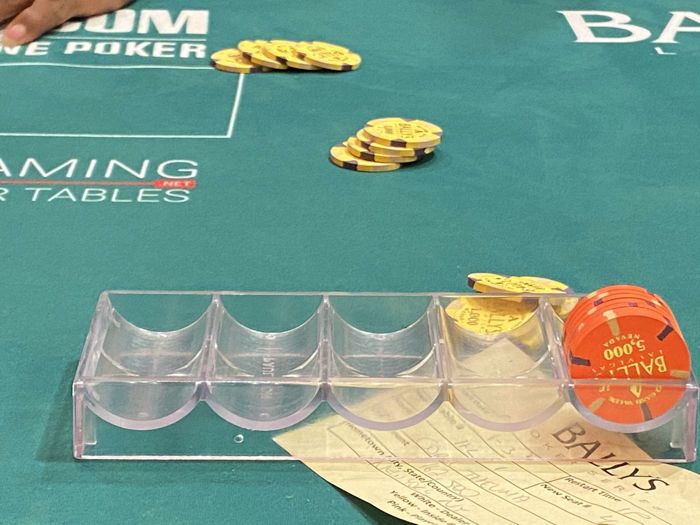 It seems the M.O. for now will be stuff like the Bally's Main Event Mania from late last year — schedules of events that look something like a WSOP Circuit but with smaller guarantees that may cater more towards local players.
This kind of thing can give the venues the chance to rake in a few dollars while whetting the appetite of local players without the bad optics of thousands of players flooding in, potentially raising the ire of local regulators and media.
As for what events players can hope to circle, it seems the Mid-States Poker Tour has the most ambitious schedule laid out with something like their normal number planned. The Heartland Poker Tour, on the other hand, still has a planned event from last August listed on its website, so it's anyone's guess whether it will even come back. The WSOP Circuit seems content to shift things online, where they can raise revenue with zero risk.
All of that is to say, you might be able to find a halfway decent tournament series somewhere nearby, but the chance to win six figures for a modest buy-in won't be too common.
More Good News Online
While things are looking grim both stateside and around the world in terms of live poker, the online scene paints a much different picture.
With the dearth of available live poker in 2020, the online operators stepped up and provided some incredible tournament series. Hundreds of millions in guarantees were produced by international operators GGPoker, PokerStars and partypoker. Even domestic operators like WSOP.com with smaller player pools provided huge guarantees with six-figure prizes available.
It looks like much the same will be on the horizon for 2021. GGPoker shows no signs of slowing, having just wrapped up a whopping $100 million WSOP Circuit series. Its competitors will be looking to keep pace and that means more huge prize pools everywhere.
Promotional dollars shouldn't be hard to come by either. PokerStars executives have already made rumblings about committing more dollars to the business, promising "investments in poker" ($) that can only mean good things for the players. Run It Once has just rolled out what one industry expert called "the most lucrative welcome package in recent history."
Exciting happenings are also afoot in the U.S. with the door wide open for continued growth. Michigan has come online thanks to PokerStars and will hopefully soon be pooling players with the other states.
Not only is Michigan bringing in a sizable population of about 10 million, but it also offers a potential drive-and-play destination for Midwesterners who had no such sanctuary before, what with everything previously located closer to the coasts.
Prize pools in the U.S. should be bigger than ever, and rest-of-world options should be about on par with 2020 as well.
Final Crazy Prediction
GGPoker will buy the WSOP. This is definitely not based on any inside info or anything like that.
It just feels like this could be the year the WSOP is finally sold after years of rumors but nothing actually coming to fruition. Several employees appear to have been laid off and not replaced, and the future of the flagship series looks as uncertain as ever with 2021 having been the last year anyone said on the record it would remain at the Rio.
Many have suggested in the past that PokerStars could be the ones to fire off, but GGPoker would seem to make more sense at this point.
GGPoker and WSOP already have a strong relationship with all of the bracelet and ring events that have been running on there. Furthermore, there are a few small clues that GGPoker may be looking to enter the live arena at some point in the near future.
What better way to do it than go all the way with their partners?
Hey, ya never know in this crazy industry.